Corporate Retreats
We travel with you and bring the custom hat experience directly to your team to any destination. We recreate the in-house fitting, design, and personalization of our custom hats at the location of your choice. Teams will be creative, have fun and leave with a hat that uniquely expresses their personal style.
It was such a pleasure having you ladies join us in Montana. I absolutely love what you've created and am so excited at every opportunity to work with you two. Thanks for always showing up and crushing it! ~Brad L.
Contact Us
Large Group Events
Planning a large group event for your clients or guests. We work directly with you and your event planners to bring a unique custom experience to the location of your choice. We will produce and bring as many hats and accessories as needed to fulfill your guest experience while maintaining the genuine handcraft of JW Bennett products.
We were fortunate to collaborate with JW Bennett during a series of events we produced in Jackson Hole in 2021.  Sarah, Lara and their team were the best of the best: professional, collaborative , accommodating and the most stylishly, creative team to work with.  So glad to have been able to share some very special moments with them in the beautiful Tetons!!  ~Jihye S.
Contact Us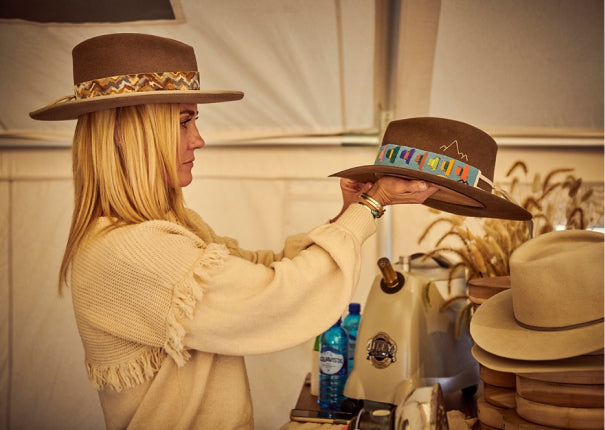 Private Events
Are you hosting a bachelorette party? Are friends coming to town for a visit? Would you like to host a trunk show? Contact us to schedule a private hat experience at one of our boutiques or at your business location.

One of the highlights of our Winter in Park City was taking a close group of friends to JW Bennett for hat fittings. It was so much fun, and Lara helped us each find the perfect and unique hat with coordinating bands. ~Amy P.
Contact Us